Fiji v Maori All Blacks face-off in the first of two tests at ANZ National Stadium in Suva. Full time here in Suva – absolutely dominant from Fiji, their first win over the Māori All Blacks since 1957.  
A knock on from the Kiwis – sums up a pretty bad game for the Kiwis.
Highlanders prop Tyrel Lomax understands his stint with the NZ Māori is another opportunity to push his claims at the next level, with the Rugby World Cup looming.
Next Game – New Zealand Maori vs Fiji Rugby two tests at Rotorua International Stadium on Saturday 20 July.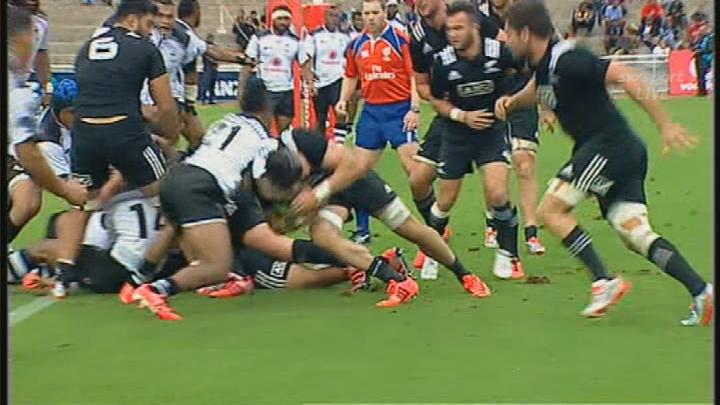 Lomax, 23, was called into the All Blacks squad late last year for a test against Japan and with many of the current pack heading overseas after the World Cup, he is regarded as a future front row contender.
But he is one of several fringe internationals heading to Fiji with the Māori side this week, after missing out on All Blacks selection for the opening two games of the Rugby Championship.
Hooker Nathan Harris, number eight Akira Ioane and halfback Te Toiroa Tahuriorangi are probably the others with most to gain from upcoming encounters against the Fijians.
"My main thing about this year was a bit of consistency and that's what I'm hoping to get out of the next couple of weeks – some consistent good footy," Lomax told Newshub, as the team departed Auckland on Tuesday.
"These games are very important for the guys that missed out on that initial [All Blacks] squad. We'll be looking to put our best foot forward."
Harris has lost his place in the All Blacks pecking order with the return of Dane Coles from injury and the continued emergence of Hurricanes understudy Asafo Aumua.
Likewise, Te Toiroa Tahuriorangi has slipped down the halfback rankings, behind Chiefs teammate Brad Weber.
Ioane will want to show All Blacks coach Steve Hansen that he can lift his workrate, after a scathing assessment at last week's squad announcement.
The Māori team to take on Fiji in Suva on Saturday is:
Māori:1-Ross Wright, 2-Ash Dixon, 3-Tyrel Lomax, 4-Isaia Walker-Leawere, 5-Tom Franklin, 6-Reed Prinsep, 7-Mitch Karpik, 8-Akira Ioane, 9-Te Toiroa Tahuriorangi, 10-Otere Black, 11-Sean Wainui, 12-Teihorangi Walden, 13-Rob Thompson, 14-Shaun Stevenson, 15-Fletcher Smith
Reserves: 16-Nathan Harris, 17-Haereiti Hetet, 18-Marcel Renata, 19-Pari Pari Parkinson, 20-Whetu Douglas, 21-Bryn Hall, 22-Alex Nakivell, 23-Jordan Hyland